Want to create change? You need to understand and influence the "levels of power."
That's what Nishani Frazier says in her recent book, Harambee City: The Congress of Racial Equality in Cleveland and the Rise of Black Power Populism, chronicling the history of black power in the Cleveland chapter of CORE (Congress of Racial Equality) and its connection to the mainstream Civil Rights movement. "It's not enough to be in the streets" marching for change, writes the author, an associate professor of history at Miami University (Ohio).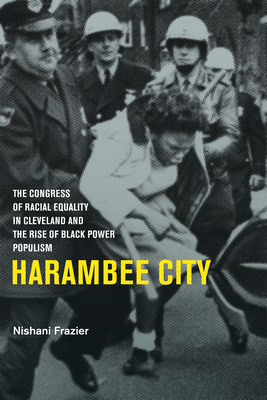 Frazier believes groups like Black Lives Matter should focus on "how they can get to those who can make change." This includes putting "pressure on political and economic institutions" and, when necessary, working to "remove people in power, the people instituting the policies."
One example of this kind of political and economic pressure is how the Cleveland chapter of Black Lives Matter, through a Facebook group called Through the Cracks of Child Protective Services, is advocating for system-wide accountability by investigating and illuminating the preventable deaths of children, particularly children of color, in Cuyahoga County. There also are efforts in the city to promote the kind of financial awareness Frazier sees as powerful, such as The Real Black Friday, planned for August 12 in Cleveland's Public Square, organized to generate awareness and support for Black-owned businesses.
The principles of The Real Black Friday can be traced to the cooperative economics that were at the heart of the Harambee City effort in Cleveland, an approach Frazier would like more current activists to study. In Swahili, "harambee" means "all pull together." It also refers to a Kenyan tradition of community self-help. CORE Cleveland chose the term for its economic development ideas, a project that never came to fruition, but was designed to push Cleveland's black community to become more self-reliant and dependent on community projects designed by its members rather than outsiders. Initially founded in 1942 as a pacifist organization, CORE is known for organizing the Freedom Rides and voter registration efforts, including Freedom Summer, which saw three of its members murdered, and the successful campaign to elect Carl Stokes as the first African-American Mayor of a major city (Cleveland).
Professor Frazier believes the "dissension and division" that plagued the CORE was "disastrous." The organization struggled to evolve because of internal divisions between people concerned about how CORE accomplished its goals and those believing they already accomplished their goals. They struggled with leadership changes, the role of whites in the organization, and articulating the organization's next steps. Eventually, they became focused on the development of black power populism, a positive step in Frazier's eyes, one that focused on developing the power of ordinary black citizens and protecting their legal and economic interests. Though the organization still exists in name, Frazier describes it as having pretty much abandoned its original principles. Frazier's mother, an original member, denies its existence. The Miami professor hopes current organizations can learn from CORE's struggles. If there are disagreements, organizers cannot "take their marbles and go home." Instead, they must find a "loving and serious" way of continuing to work together, writes the author.
In the spirit of sharing power and democratizing access to knowledge, Frazier and colleagues created a Harambee City website that will, with the help of Frazier's students, continue to expand. Frazier is particularly interested in having students map the impact of, for example, redlining, so that researchers can see how today's conditions have their origins in policies of the past and activists can see the urgency of concentrating on policy changes.
Header image: "Demilitarize the Police, Black Lives Matter" by Johnny Silvercloud. 
Find Harambee City: The Congress of Racial Equality in Cleveland and the Rise of Black Power Populism at your local indie bookstore.