With the recent sentencing of former officer Michael Slager for the murder of Walter Scott fresh in the news, it is easy and right to say that Angie Thomas' novel, The Hate U Give, is timely. Thomas contributes to this timeliness, even urgency, by using the present tense to tell the story of Starr, an African American teenager and resident of the fictional Garden Heights, who sees her good friend Khalil, also African American, killed by a white cop who quickly claims that he feared for his life.
Starr's family initially seeks to protect her, but she begins to learn that she not only can't stay quiet, but that she has an obligation to speak up. And this is what takes the novel from good to great, from a young adult story of the moment to a novel that all should read, both now and in the future. In addition to being a story about police brutality, it is also a timeless story of a young woman finding her voice.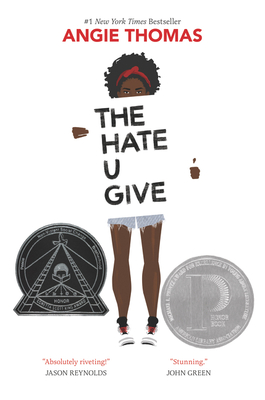 To call it a story about police brutality and a story of a young woman coming of age is still too limiting. It took a second reading (and the prospect of teaching the novel) for me to recognize Thomas' nuanced consideration of a range of issues. There is Starr's white boyfriend. There's her life at her mostly white prep school and her life in her own neighborhood. There are her friendships, one of which will become stronger and the other that will be, quite literally, deleted. There are questions about language: What is a joke? Who gets to say which words? Is it a riot? A protest? Why is the McDonalds burned down? The pawn shop? What is the difference between speaking up and snitching? Can any of us stand idly by?
There is, as I write, a film version of the book in production. While I am glad that it will bring more attention to the book, I worry that the adaptation will make things more, well, black and white. While there are certainly things that are clear in the novel, there is plenty of grey, and it is the grey-ness that makes this story one for the ages.
Angie Thomas will be the Martin Luther King Jr. Commemoration Shabbat speaker at Anshe Chesed Fairmount Temple in Beachwood from 6:15 to 7:30 p.m. Jan. 12. Call 216-464-1430 for more information.
Shop your local indie bookstore.
If you enjoyed The Hate U Give, I recommend Dear Martin by Nic Stone and The New Jim Crow by Michelle Alexander.